Printmakin for vision impaired persons
12/11/2018
On Monday nights I run a printmaking workshop for vision impaired and blind persons in Iiris-keskus, Helsinki. We are a group of five persons, me being the only visioned person in the group. All the other participants have either a vision impairment or are blind. All participants are experienced art or craft workers, therefore the visual methods and needed physical skills are there. However, the multiple printmaking methods are not that familiar to this group.
During this course we explore nature through printmaking aiming to find suitable techniques to all participants and their level of vision. As we have no printing press as such, we use methods that I'm familiar with from the schools that normally don't have any printmaking equipment available. I have also run numerous printmaking workshops in various places such as The National Gallery of Ireland, the Natural History Museum of Ireland, The National Museum of Ireland throughout the years. As a rule, in these places you need to concentrate on printmaking methods that do not need any special equipment. This is what I'm good at. I used to call myself the Mary Poppins of the printmaking world as I used to "fly" around Dublin with my wheelie bag to hold printmaking workshops in different venues.
I'm totally passionate about simple printmaking methods that can be done by everybody. I want to demonstration that printmaking is not only for professionals but can be done without complicated tools, at home and without any dangerous fumes. Should you be interested in a printmaking workshop for children, the elderly, persons who need special assistance or in fact anybody, please do get in contact with me.
Three houses in the Slovakian monutains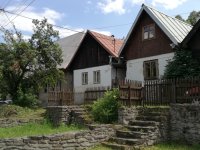 12/11/2018
This page is under construction.
We have three little historical houses on the Slovakin mountains. We are slowly renovating them with our building team.
This bage is under construction but I will soon be adding lots of photoes here so you can follow our progress.
Markets and sales
12/11/2018
This page is under construction.
I'm apassionate market sales person. Together with my friend we tour around the Southern Finland on special markets selling crafts and artisan bakery coodies. This term you can find us in Annala Christmas Market, Marketanpuiston Christmas Market, Dot ry Joulupolku and many more.
Vaihtoehto vitriinille -hanke, (An alternative to a classcase)
12/11/2018
This page is under construction.
This is an accessibility project where we advice museums and other cultural institutions on democratic access to their collections. The special emphasis on this project is with the blind and vision impaired. This project was originally supported by the Finnish Ministery of Education and the first installation of the project was done with the Sport Museum of Finland, Helsinki in 2014.
Audio description
12/11/2018
This page is under construction.
Visual description, or audio description, is a method where a narration is added to the viewing of an art piece. This is usually intended for blind and visually impaired persons, but other groups also benefit from it hugely. I highly recommend this method when working with the elderly, with children or for example with the autism spectrum persons.
I would love to develop this working method further to be used in hospitals with patients that are bedbound. Should you be interested in collaboration, please do get in contact with me.
This particular project is a three part series done in collaboration with Järvenpään Taideseura, Järvenpään kaupunki, Helsingin ja Uudenmaan Näkövammaiset ry:n and Setlementti Louhela. The works are by printmaker Sari Lindfors.
Project manager
12/11/2018
This page is under construction.
I currently work as a project manager in an educational programme where we bring the field of vision impared and blind arts and crafts to this day. We do this by education, advocacy, events and media.